WooCommerce Integration 
Enhance the account page experience and simplify user registration by providing access to WooCommerce fields. 
Streamlined WooCommerce Registration 
---
A comprehensive solution for seamless user registration, synchronized data, efficient order processing, and improved account management within the WooCommerce ecosystem.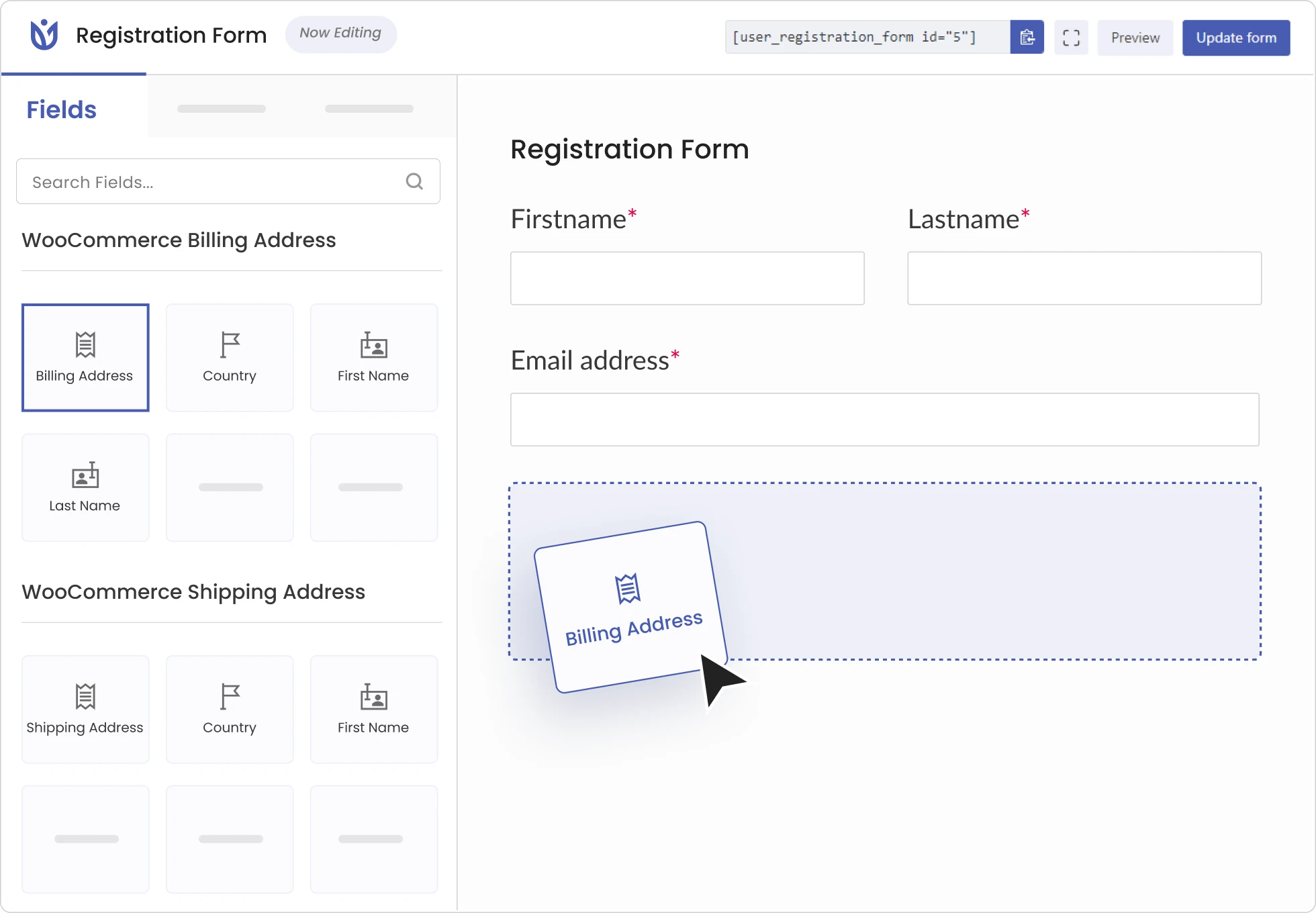 Seamless Syncing of Billing and Shipping Fields  
Connect WooCommerce billing and shipping fields with the User Registration form. 
Add WooCommerce Billing and Shipping fields to the registration form.
Keep User Registration and WooCommerce information in sync effortlessly.  
Replace the default WooCommerce login and registration form with User Registration's custom forms.  
Enhanced Account Details     
Display WooCommerce info on the user account page for easy access and editing. 
View and edit WooCommerce-related details in one place on the User Registration account page. 
Easily integrate User Registration fields with the WooCommerce Account page. 
Streamlined Order Management   
Leverage the order management functionality of our add-on to access and track WooCommerce orders of individual users.  
Sync a user's User Registration account details with their WooCommerce orders. 
Enable users to view their order history right from their account page.
Effortless Downloads and Address Management 
Simplify the download process for users and provide a platform for them to manage their address information. 
Access and download available products through the integrated 'Downloads' tab on the account page.
View and edit billing/shipping addresses for streamlined address management.
Simplified downloads and address updates with integrated tabs .
Create WordPress Registration Forms in minutes.
User Registration and Profile plugin that is easy and flexible to use. Comes with tons of customization options and solid documentation.